Our content includes Turkish SEO books. Since SEO is a field that is updated every day, although I do not recommend the books, I wanted to share the books in the industry and recommended.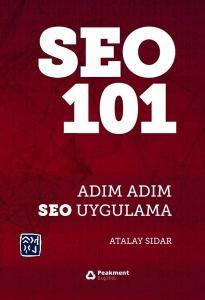 Seo 101-Atalay Sidar
How to manage the SEO project, SEO expert, such as how to become the author Atalay Sidar, this book has been published through the Kutlu publishing. The book, seen as Price 48 TL, is written for those who want to consolidate their SEO knowledge.
Topics: Google algorithms, Domain & Hosting selection, SEO compatible theme selection, SEO compatible Site setup with WordPress, keyword determination, intrasite SEO (Onpage SEO), Webmaster Tools guides (Google & Yandex), Google Analytics & Yandex Metrica, Competitor Site reviews, off-Site SEO (Offpage SEO), SEO Tools (Onpage & Offpage)
-SEO and beyond-Gökhan Bariskan
Gökhan Bariskan, the author of this book, published by Dikeyeksen, sells to 31 TL. What is done to build a quality site, topics such as what are micro data concepts.
Topics: SEO's Significance, Backlink methods, indexing logic, Link cycles, search engines, SEO for Bloggre, local SEO, Backlink tools, On-Site SEO, Adwords and SEO, content and SEO, visit based SEO, content analysis tools, organizing Visitor logic, mobile compatibility, Bounce Rate, Open Graph structure, Pogo Sticking, Miro Data, Google algorithms, ecommerce SEO, updates, SEO for Flash sites, Google filters, multilanguage and SEO (from the introductory newsletter)
SEO from the expert-Kaan Gülten
It is the best selling SEO book in Turkey. It was written by Kaan Gülten, founder of Seoinstructor. The sale price is now 25 TL.
Topics: Search engine optimization, SEO logic, popularity, quick indexing techniques, Google filters, Sandbox, Google Bomb, Google Webmaster Tools, Sitemaps, browse like Googlebot, Google services, Analystics, Adsense, Adwords, intra-Site SEO-Metalar, canonical URL, keywords, SEO off Site, Backlink, social media, Twitter-Facebook-Linkedin, server based SEO, security, SEO Hosting, Domain based SEO, visitor based SEO, Alexa Analystics, SEO for special systems, SEO, SEO tools, Online and Offline tools for E-commerce systems, SEO editing